She's Like A Rock This 9 yo mare joined our Appaloosa family in 1995. We bought her from Sandy Jones of Deer Park, Washington. Her sire is Partner In Crime by the Executive, and dam is Starability by the immortal Rock Star. Pebbles started her show career in Alaska at 2yo in halter, winning the state championship in the 2yo and Under division for 95. In 97 she started showing under saddle, and at the State Fair Horse Show, winning 1st in Appaloosa Western Pleasure, and First year Green Horse- Pleasure. That same year, she won a first in green horse walk-trot at another open show. In 1998, we took her to only one show, and she won 1st in Novice Western Pleasure, 4th Open Sr. Western Pleasure, and a 3rd in the Western Pleasure Championship. In 1999 we competed in one open show and won the Sr. Western Pleasure class. In 2002, she won the Sr. Western Pleasure & Open Trail classes at the AK Morgan Horse Show. She had a colored 2001 filly by World Champion "Zippo's Fax Machine", that we plan on keeping. She's currently in foal to *Sully Diamondust*, who placed third at the World, and has his ROM as a performance & halter sire. You can see more about *Sully* here.

On left: Zippo's Faxmachine
Sire: Zippo Pine Bar
Dam: Sky Eyes (Multiple World Ch. Producer)
On right: Colorshow
Sire: Sully Diamondust. Sire to our upcoming 2003 foal.
Colorshow pictured winning a 2003 superhorse title.

Imacoolinletbreez, blue roan mare foaled on Aurora Farm 5-21-92. She was 1994 State Champion at halter, and 1993 & 1995 Res. State Champion at halter in the mares division. Breezy has spent several years competing in the 4-H circuit with my oldest daughter, Rachel. In 1999 she made the top ten in the new Appaloosa Horse Club program, ACAAP. She is currently leased out to Su Valley Appaloosas and is also bred to *Sully Diamondust* for a 2003 foal.
Sire: Ima Top Honey Bar
Dam: Cool Jag x Three Bar Jag (Black AQHA)
Ima Top Honey Bar, blue roan sire of Breezy. He is by Ha Dar Honey Bar x Ima Top Lass. See his baby picture.
On the right, Rachel and I enjoying our mares.

See the kids horse page here.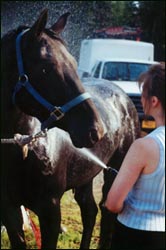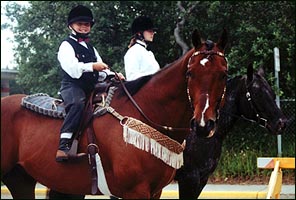 On the left, Breezy getting a bath in preparation for a parade. On the right, the girls in a local parade called Colony Days. Rebekah borrowed Jazz from Moosewood Farm for 4-H competition and to gain skill and confidence in her riding ability.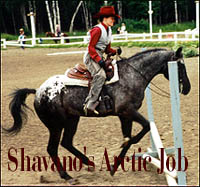 My first appaloosa.